Southeast Missouri State University
River Campus Mural
May 12, 2005 - June 9, 2005
---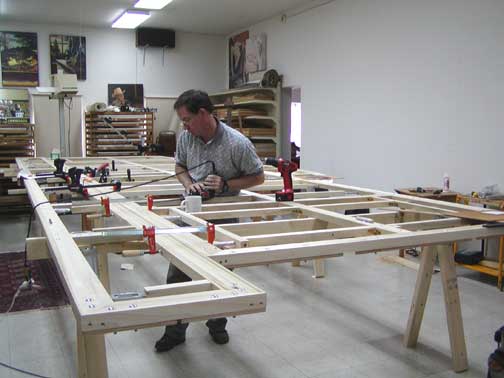 There are five sections to the total mural. When complete, the mural will measure 10' x 27' - too large to ship in one piece. Therefore, the mural will have a main section, two small 12" x 12" side panels, and two bottom panels measuring 18" x 13'6". Above, I am drilling the holes through the side frame of each section and a threaded rod will be used to bolt the sections together.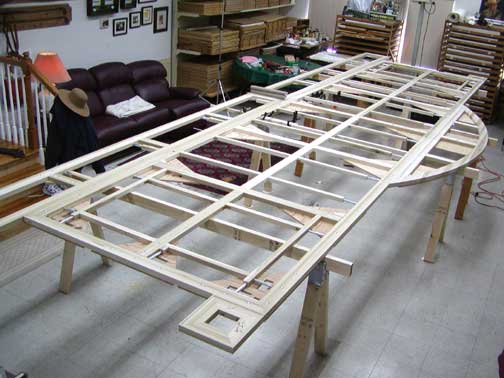 The finished frame work. Time to start the stretching of canvas.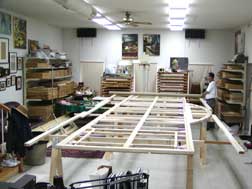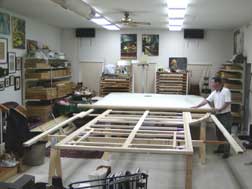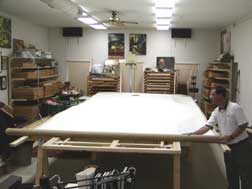 I always love the smell of newly primed canvas. This canvas is a very high grade Belgium linen that's been oil primed. I have waited a long time to see this canvas unrolled and ready to cut and stretched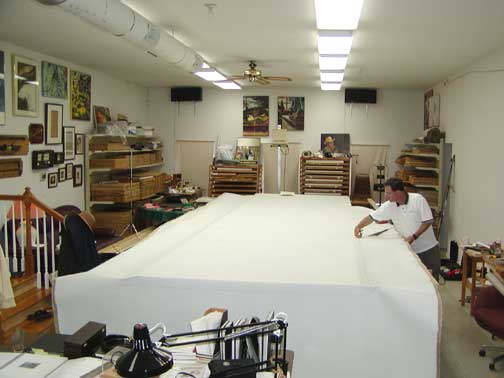 I am taking my time at this point. The canvas must be trimmed to the proper size to be stretched. In order to get the proper hold on the canvas to stretch it, the canvas must be cut approximately 2" larger than the stretcher system. Errors cannot be repaired at this point if the canvas is cut too small. By all means, don't do that.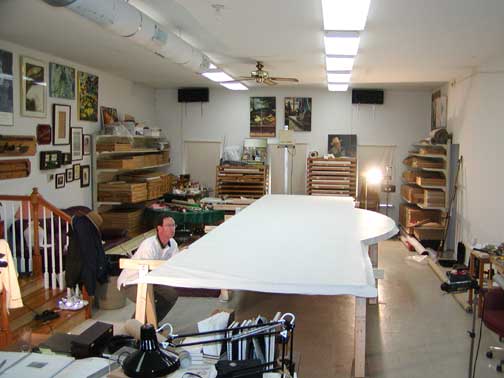 The stretching of this section did not go well at first. The arch in the center gave me more problems than I thought it would. This turned out to be a two day job. Oil primed canvas is a stiff canvas; and, it has a mind of its own. You have to be patient and let it tell you what to do. Above, I am finishing the last corner. All is well.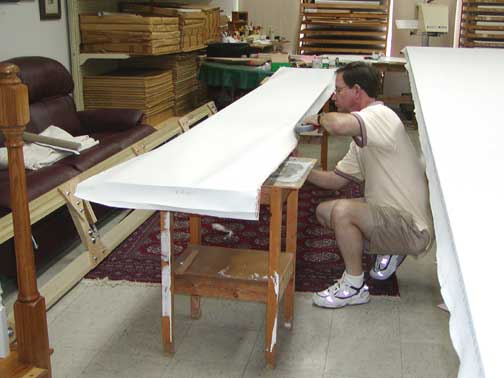 The stretching of the bottom panel went well, an easy job compared to the main frame.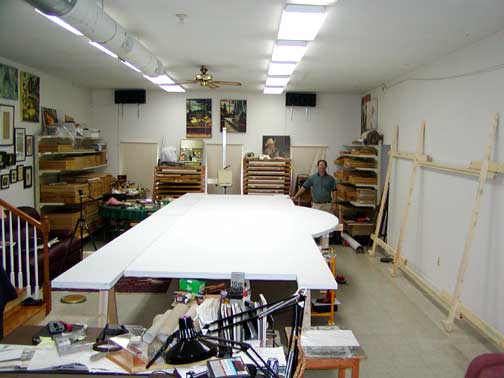 The sections are finished; and, the easel to the right is finished. I will store the side and bottom sections to be painted a later time. The main frame will be the first to get my attention. All I need to do is get my coffee shop friends back to help me move the main section to the easel.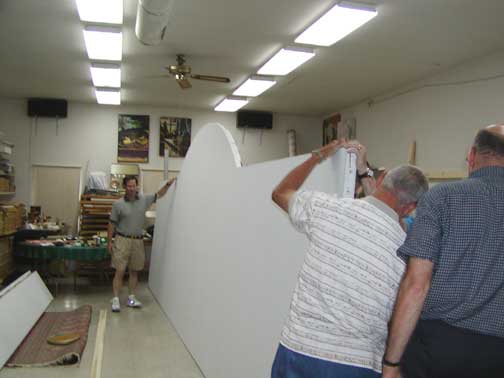 All hands on deck. My able bodied associates are up to the job at hand.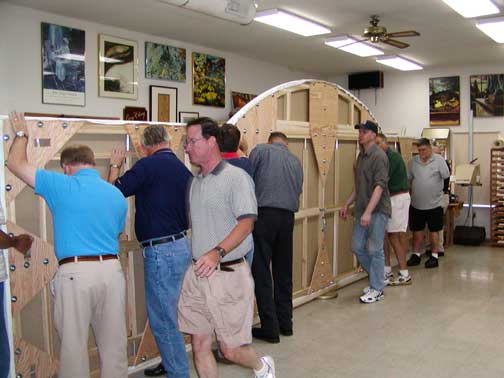 One thing I wanted to do was weigh the canvas, good news - 225 lbs. I was worried it would be in the 280's.
Notice the high tech bathroom scales used to weigh the canvas.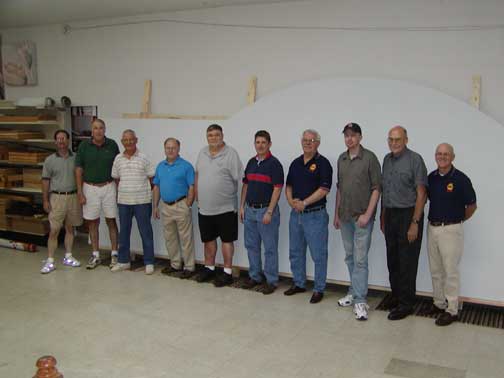 Yes, a magnificent lot. From left to right, yours truly, Frank Wood, Lou Filla, Gary Terschluse (Gary is an engineer, a very good one. I asked him to give the work a once-over - must have passed - he didn't turn me in for any building code violations), Gary Gansereit, Kerwin Stretch, Walt Luther, Brian Gansereit, Skip Otto, and Mark Wessels. Many thanks to my friends for their help.
All the best to you,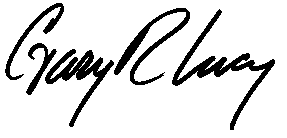 Next Page
Back to Previous Page
Return to Gary R. Lucy Gallery Home page
Return to Mural Journal Home page