Southeast Missouri State University
River Campus Mural
Installation and Dedication of the Mural
---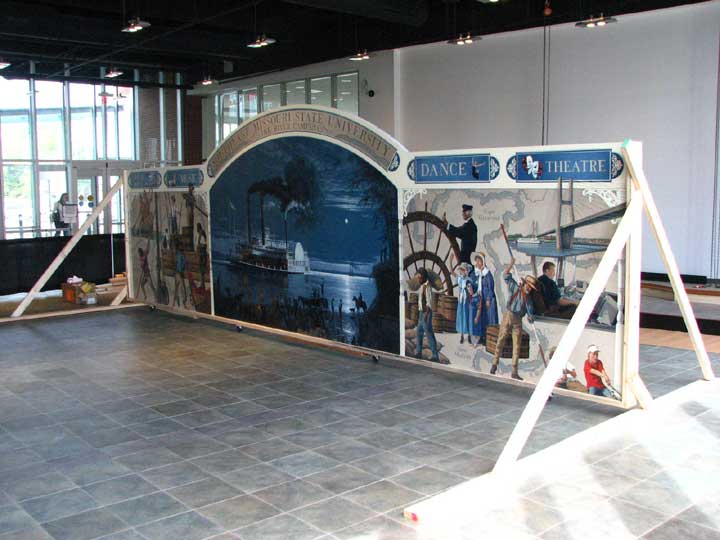 The mural has been moved to the River Campus lobby which will be its final home.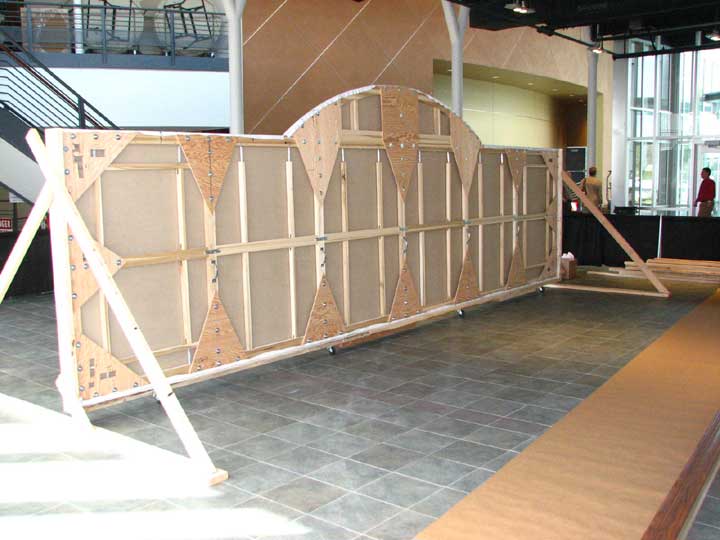 This view displays the design of the canvas strecher system built for the mural.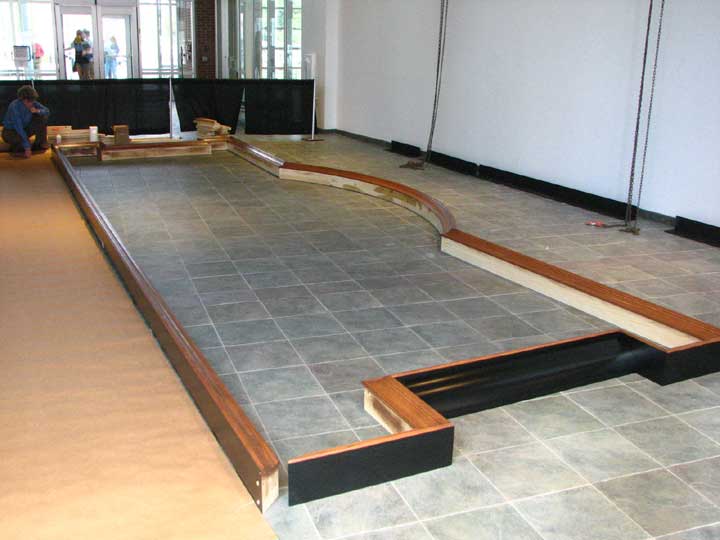 The frame built by Wahle's Wood Working in Union, MO is in place and ready to be assembled.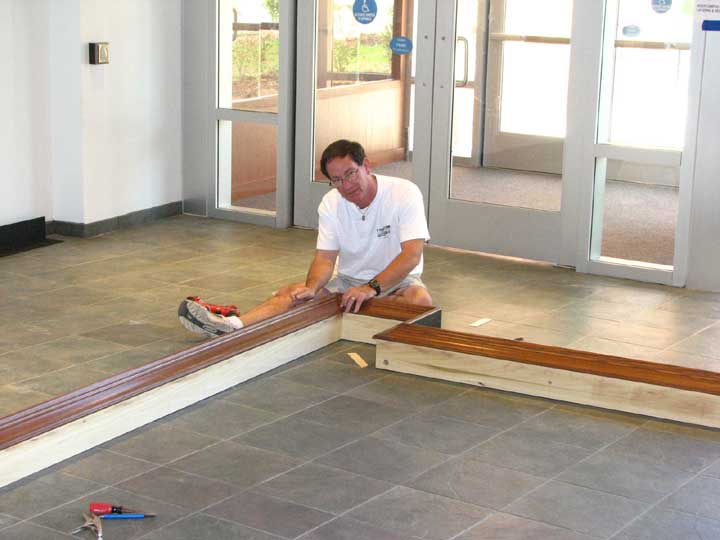 A marvelous job by Wahle's Wood Working. All corners were bolted together. No glue was needed. They were perfect.
The way to check if a frame is square is to measure the diagonals of the frame...corner to opposite corner.
When I measured the assembled frame, the tape read 139 1/8". I then went in the opposite direction and the measurement
was 139 1/8". You can't do better than perfect. It is very difficult to get that close on smaller frames let alone a frame of this size.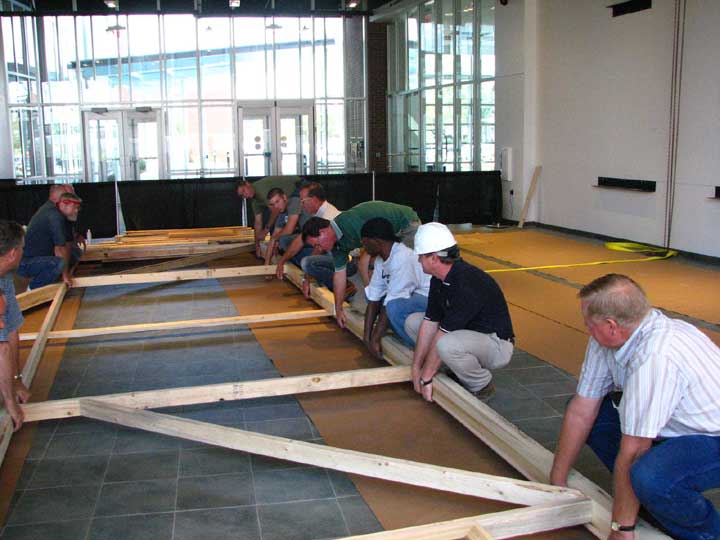 The frame is assembled and cross braced to be moved in front of the wall to which the mural will be permanently attached.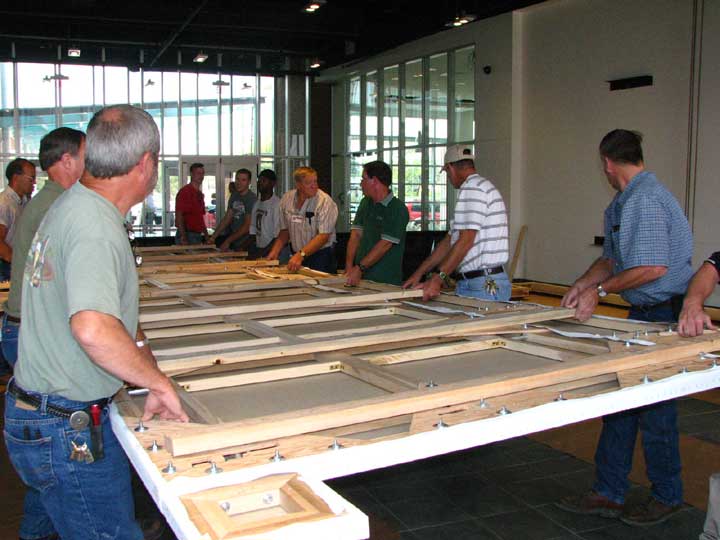 Another moment of truth. Will the stretched canvas fit the frame?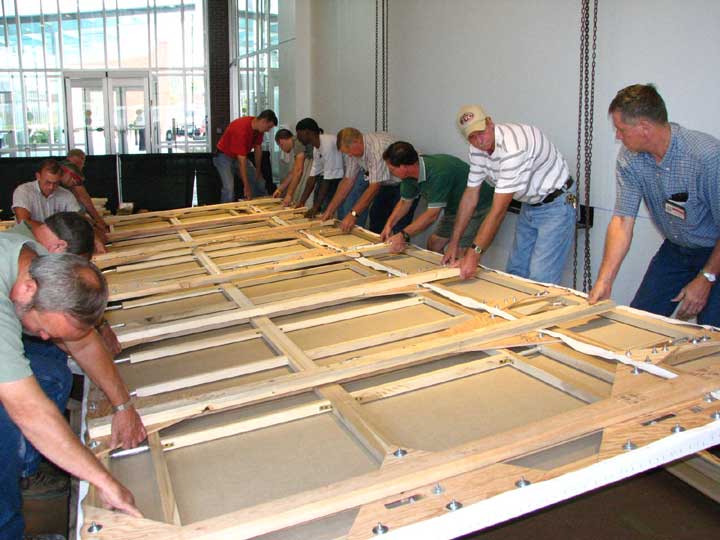 The fit was perfect. The frame was designed to have 3/8" tolerance. The canvas fit so well that when lowered into the frame,
air rushed from under the face of the frame. No adjustments had to be made.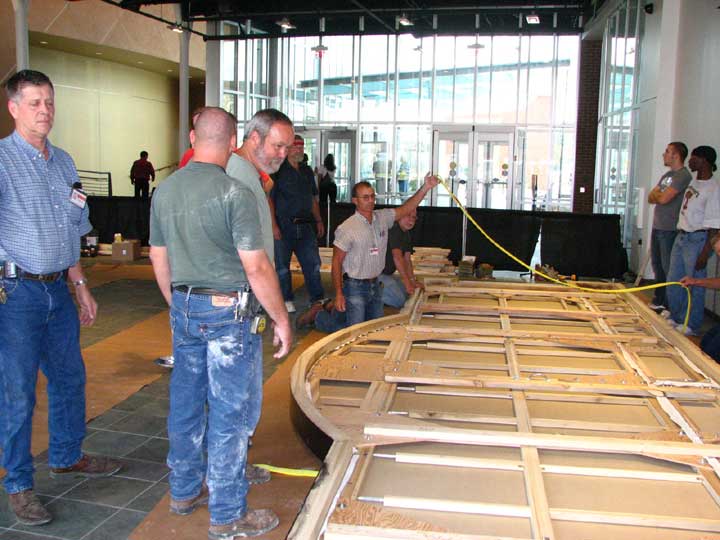 Smiles all the way around from the maintenance staff at Southeast.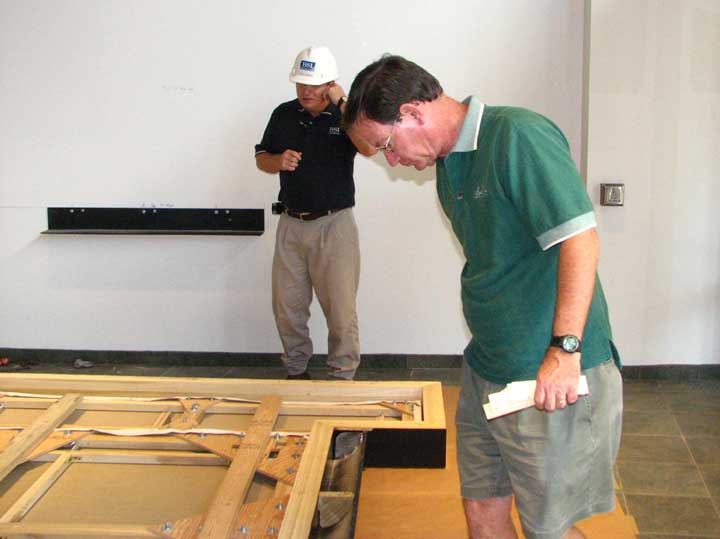 A check around the edges......great fit.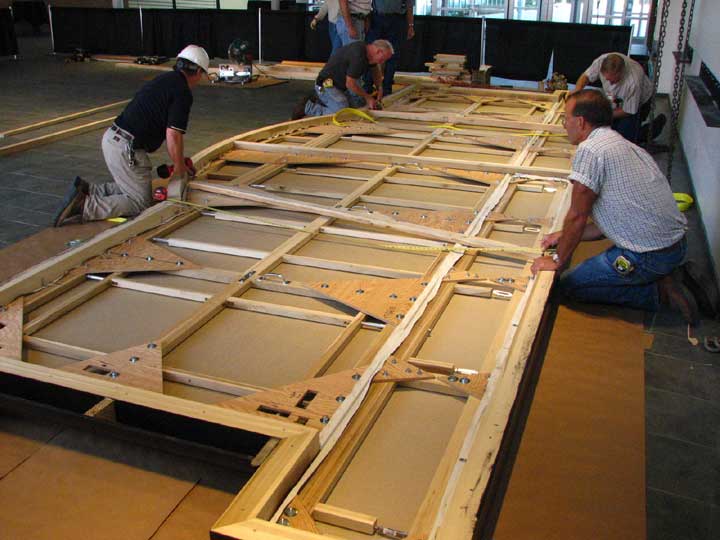 Cross bracing is being added before installation.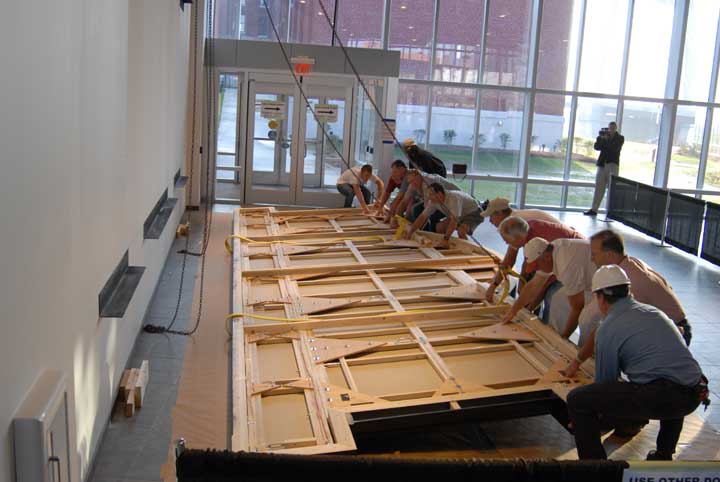 The next day it was time to lift the mural up and into position to be installed on the wall.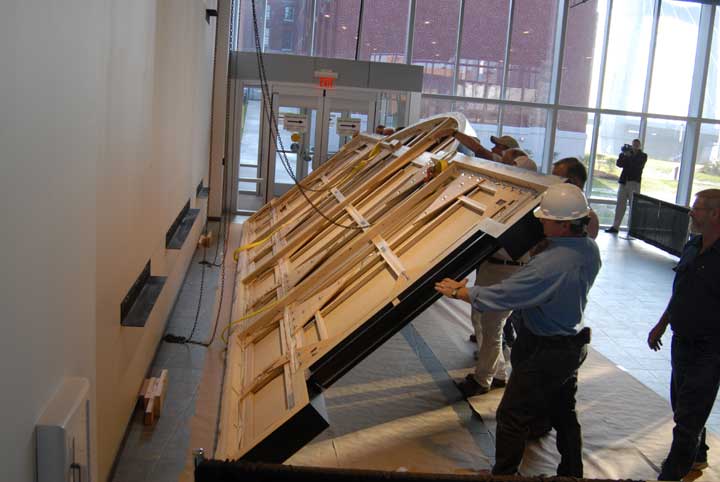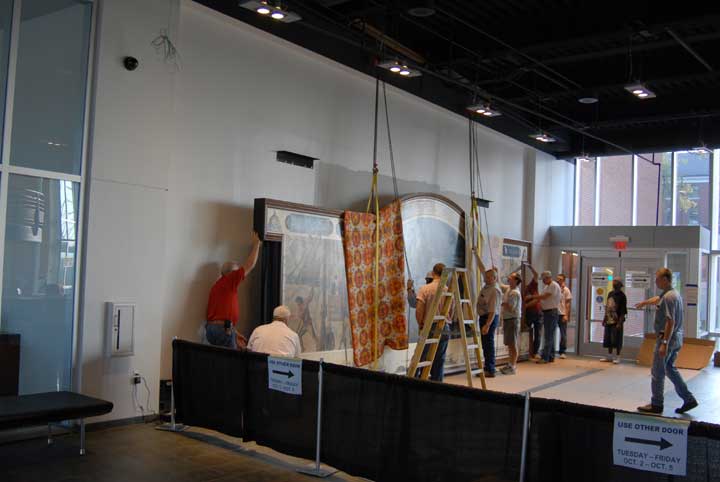 With blankets in place to pad the frame and mural, it was slowly lifted into posititon.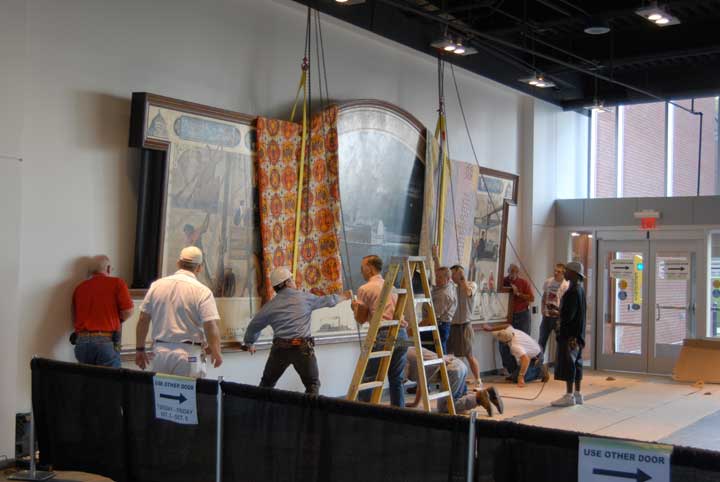 The fit on the mounting brackets was perfect.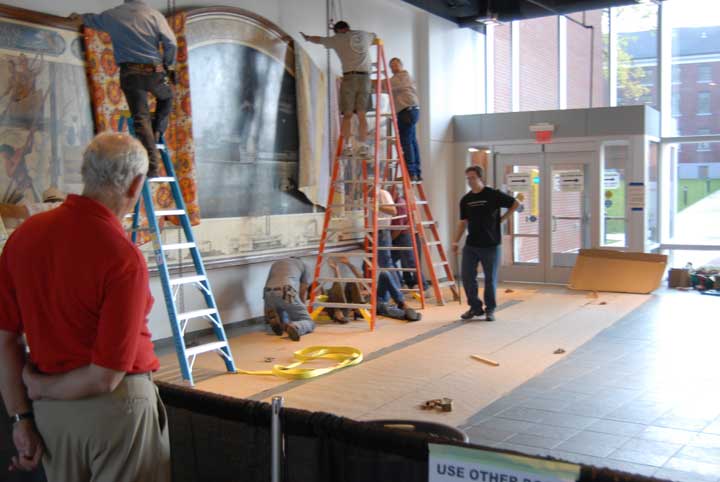 However, one small problem. We couldn't get one of the lifting straps loose from behind the mural.
One of the workers said that it was a tight fit, and, if his wife was there with her small hands, she could
get the strap out. Who do I know with small hands? My wife, of course. So, you can see Sandy on her back under
the ladder reaching behind the mural to retrieve the stubborn strap. I've often said she saved the mural that day.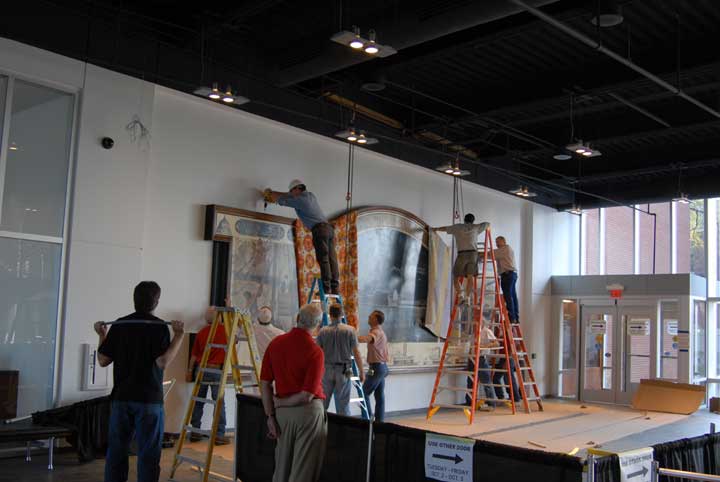 The screws are drilled through the mounting brackets and the mural is in place.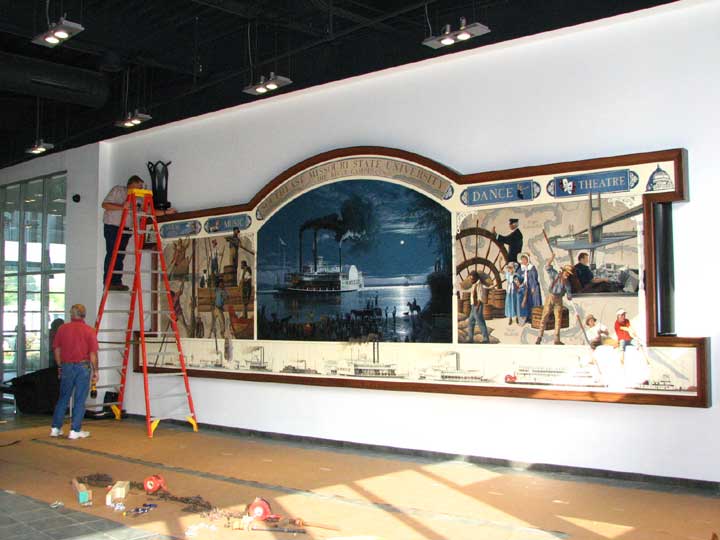 With the addition of the steamboat chimneys, the mural is installed.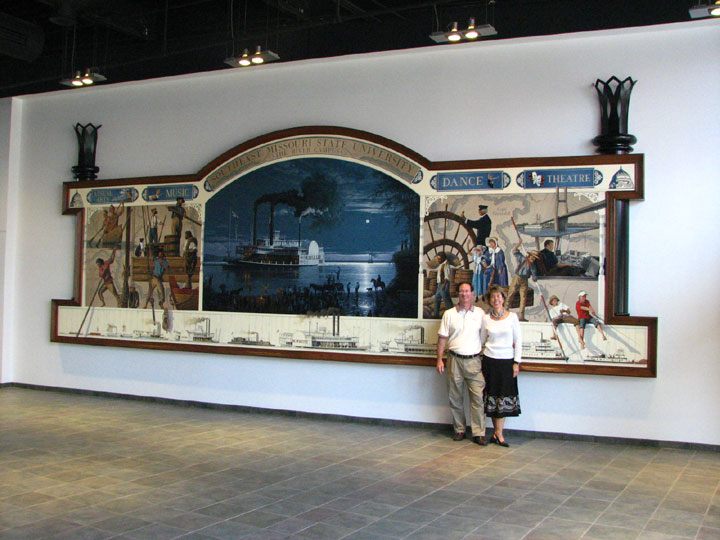 A happy couple!!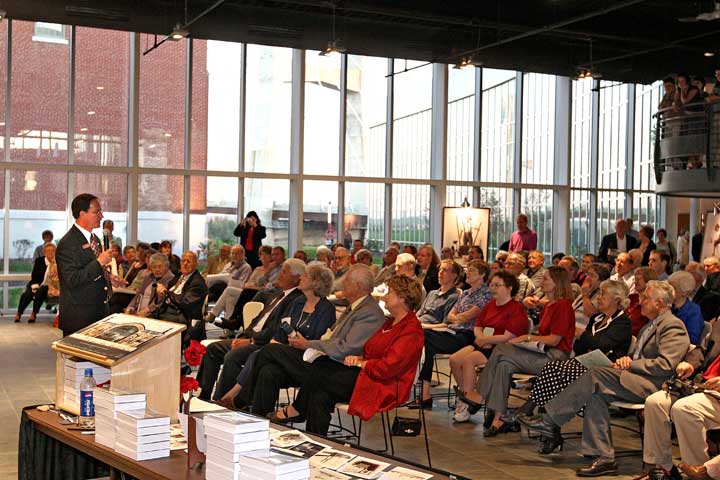 The mural was dedicated on October 21, 2007.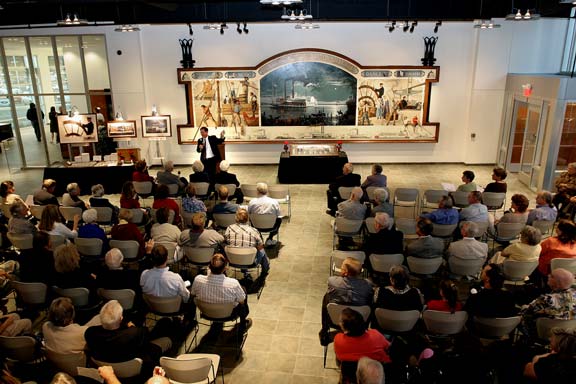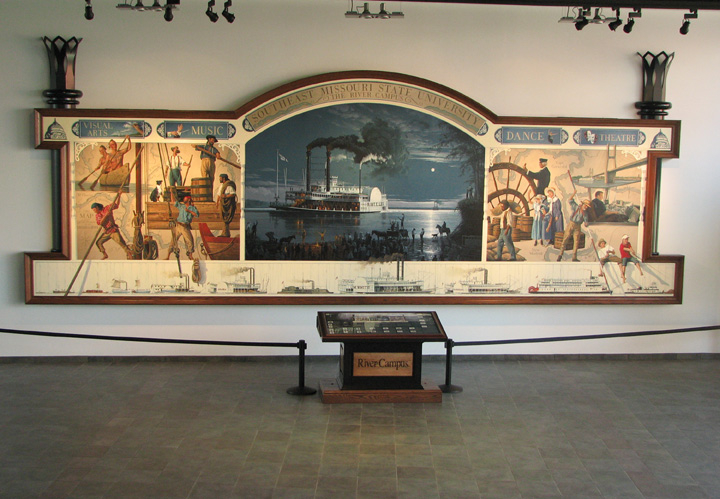 Inland Waterways: The Highways of Our Heritage
Gary R. Lucy
All the best to you,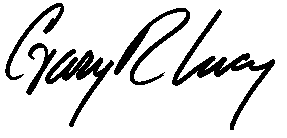 Back to Previous Page
Return to Gary R. Lucy Gallery Home page
Return to Mural Journal Home page