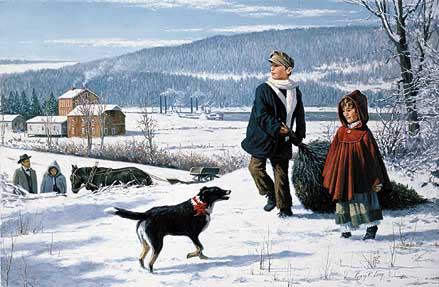 THE FAMILY EVENT
Searching for the Perfect Tree, ca. 1870
"The Family Event: Searching for the Perfect Tree, ca: 1870" explores Christmas in the late 19th century. This is a view of the Victorian time period from which Christmas as we know today originates; i.e., the Christmas tree and all the trimmings.
Our view of the activities finds the two youngest family members on their own to select the perfect tree while Mom and Dad wait just over the hill to see the choice their children have made. The older brother has cut the tree and is dragging the selection back to the wagon. His sister, is all smiles. Also, it appears the family dog is smiles from ear to ear as well.
In the background, we find the home of perhaps a river boat captain. The weather is cold but the river is clear of ice. Travel on the waterway is still underway. However, the steamboats are tied off for the Christmas Holiday. Let's load the selection on the wagon and return to the warmth of the distant home to begin to decorate the "Perfect Tree".
THE FAMILY EVENT 950 s/n
Image size - 10" x 15" - Print only
Pencil remarques available

$50


click for framed prints

Custom Framing prices starting at

$160

Shipping - for print only

$15

Shipping - for framed print crated

TBD
All Gary R. Lucy prints are shipped flat via UPS
To order call - 800-937-4944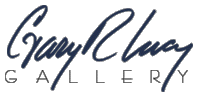 231 West Main Street - Washington, Missouri 63090
636-239-6337 800-937-4944 FAX: 636-239-4178

---