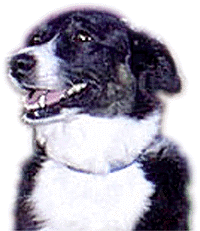 America has a new Poster Pooch. Her name is Snookie, she's half German Shepherd and half Border Collie, and she works as a four-footed model (and crew-canine) for Gary R. Lucy.

Snookie's popularity as a model is growing these days at the speed of a downstream runaway barge. For the past four years many of Lucy's paintings have included the image of a perky black and white pup perched on the deck of a keelboat, skiff or paddlewheeler.

"Dogs were as much a part of frontier river life as firewood and jugs of homemade whiskey," says Gary. "Take a look at some of those old photos and you'll almost always see a hound of some breed or another shmoozing with the crew. They made wonderful companions on river trips and also served as watchdogs and ratters."



Snookie appears in at least six of Lucy's paintings, including the July Fourth finish at St. Louis of the great race between the Robt. E. Lee and the Natchez. "She also keeps me company when I'm on the river in my covered pontoon boat," says the artist. "And as you can see (left), she knows a lot about navigation. Sometimes when we're out there floating along at night she'll even join me in a chorus or two of 'Old Blue' or 'Polly Wolly Doodle.'
"She's also courteous to a fault. There are times when she's so anxious to stay out of my way that she backs up and tumbles into the river. Now she wears a yellow life preserver so I can retrieve her when she's out there people-paddling with all those big channel cats."