Welcome to my CAPTAIN'S LOG home page.
As one of my CYBERCREW MEMBERS, I hope you enjoy your visits to my studio,
trips on the river, and, through my work, a voyage in America along the Inland Waterways: The Highways of Our Heritage.
WELCOME ABOARD!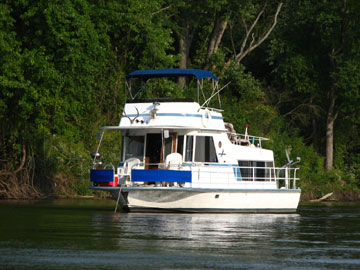 The River Rover, river dog Petie, and your Captain.


November 4, 2010
I'm about to finish a new painting. The work is entitled "The SPRAGUE"
The work is a commissioned painting for AEP, Rivers Operations, headquarters
in Chesterfield, MO.
"Sprague" was the largest towboat ever built. She had the largest paddle wheel even built for a
steamboat, 40ft in diameter and had the record for the largest tow ever pushed till after WWII.

Please note that we have a new politician in Washington, Missouri.
Yes, my wife Sandy is the new Mayor of the City of Washington.
I am very proud of her. She will do well. You can also say that you
know at least one honest politician. Also, she is the first female Mayor in
Washington's history.
Congratulations, Sandy.
The above photo is compliments of:
Washington Missourian Newspaper
The Honorable
Sandy Lucy
Mayor
Washington, Missouri

November 5, 2010
It is quitting time on Friday. I started laying in the under painting for the smoke.
Finishing the smoke with give the boat a much more 3D effect. Have a great weekend.

November 11, 2010
Time to start the winterizing process on the Studio Boat River Rover, see boat photo above. The RR
has a nice roomy area to work on the engines...never buy a boat if the motors are hard to get at....
a little oil change before I start to pour in the anti-freeze. It is very sad to see winter come. I can't
wait for spring. By the way, Petie and I had a wonderful most beautiful fall aboard this year.
Just another beautiful day on the river.

November 17, 2010
I have run into a small problem in the studio. The work on the Sprague is on hold for a few days.
The Weber Brothers are replacing the windows in my studio. I thought that I would be able to continue to work.
However, that doesn't look like it will be possible. This would be a good day to be on the river.
The Weber Brothers are doing a great job. I'll be back at the easel in a couple of days.

For earlier Captain's Log entries, click on the following dates.
October 2009
November/December 2009

garylucy@garylucy.com

231 West Main Street - Washington, Missouri 63090
636-239-6337 800-937-4944 FAX: 636-239-4178
Click here to go to Gallery Home Page