CAPTAIN'S LOG
At Sea: Stormy Night
August 24, 2002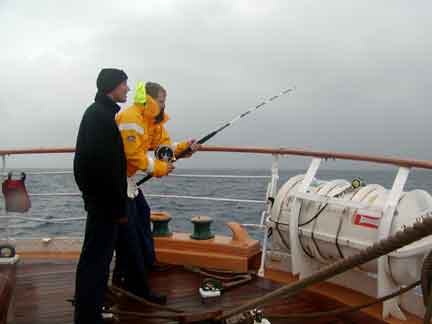 While off duty, a couple of crew members try their hand at landing a big one. The skies are starting to gray giving us a hint of the weather to come.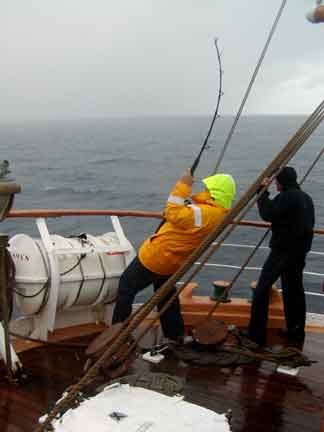 A big strike. However, this one was to be recorded as the one that got away. I did see several photos of the fish that had been caught from the stern of Eagle, some very impressive.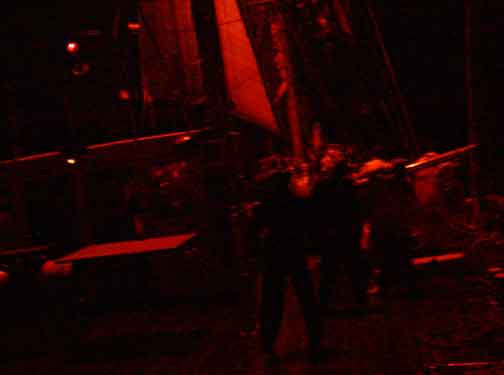 At dinner this evening, Capt. Luke was informed that we would be in for a rough night. The following photos were taken about 2am. I could not use a flash. I used only available light; and, there was very little.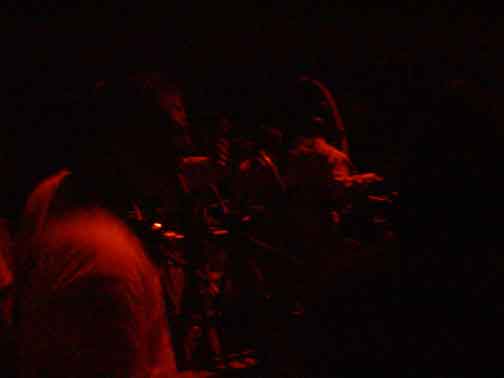 The sea continued to build through the afternoon and into the evening. The off duty crew had turned in for the evening; however, I wanted the full experience. I wanted to see how the crew handled Eagle in the rough seas. I found a corner in the pilot house and a place to hang on. That evening we had 55 knot wind gusts. At one point we listed to 45 degrees putting the port rail in the water. The rail was about 25 to 30 above the water line. The Captain was called and he gave the order to sail stations. All the crew member have an assigned duty during sail stations. All those assigned to climb the rigging, going aloft as high as 140ft to perform their duties to take in sail that evening, had to be excited to say the least. I was happy to keep my feet firmly on deck.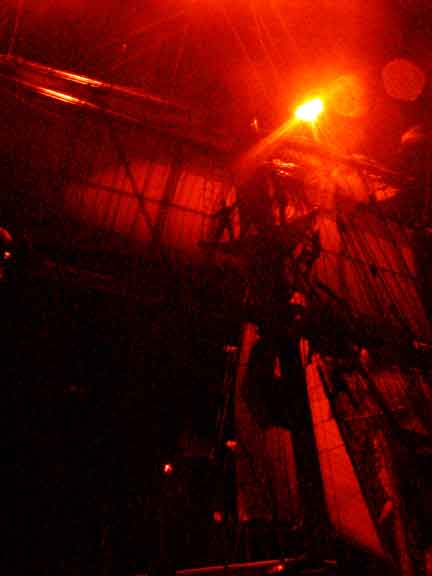 This photo and the two following are very interesting. Note the figures in the rigging. Because of the high winds, their job was to take in sail. The rain is horizontal and winds are gusting to 55 knots. This is not a night to climb the rigging in the middle of open ocean.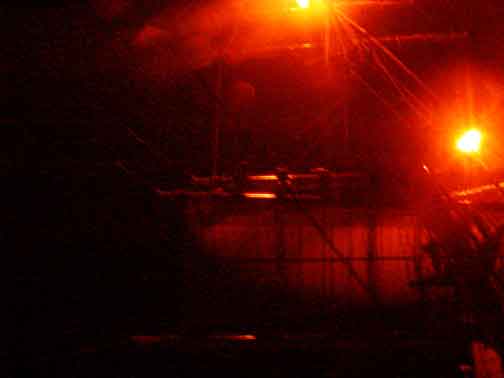 The crew members are in the center of the photo pulling in sail.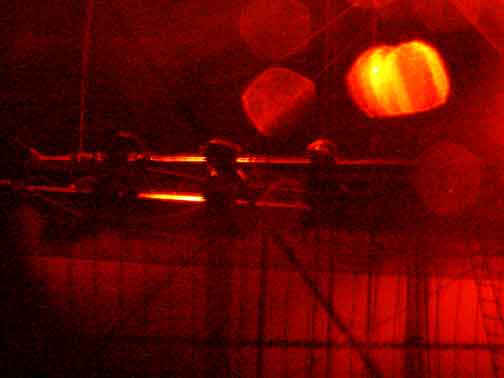 All ended well that evening. All hands are safe.
To my bunk for a little sleep.
Another beautiful day at sea.
---
The best to you, shipmates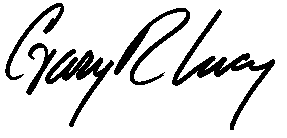 ---
Next page Aug. 25
Return to Eagle Voyage main page